CHICKEN CACCIATORE
8 chicken breasts, skinned
salt and pepper
3 Tbsp olive oil
2-1/2 c chopped onions
1 lb mushrooms, rinsed, drained, quartered
1 Tbsp minced garlic
2 tsp dried oregano
1/4 c chopped parsley
1 qt tomato sauce (see other ingredients)
1 c dry white wine
1 c salt cured olives, pitted

TOMATO SAUCE
2 cans (28 oz each) crushed tomatoes with oregano
5 cans (6 oz each) tomato paste
3 c chopped Roma tomatoes (about 1-1/4 lbs)
1-1/2 c dry red wine
1 c chopped onion
2 Tbsp chopped fresh or 2 tsp dried basil
1 Tbsp minced garlic
5 dried bay leaves
1 tsp dried oregano
1 tsp pepper
salt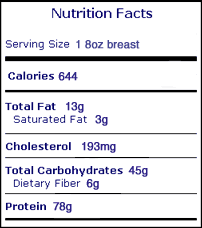 TOMATO SAUCE:
In an 8 - 10 qt pan, combine 3 cups water, canned tomatoes with their liquid, tomato paste, Roma tomatoes, wine, onion, basil, garlic, bay leaves, oregano, and pepper.

Bring to a boil over high heat, stirring often; reduce heat, cover and simmer, stirring occasionally, until reduced to 4 quarts, 45 minutes to an hour.

Remove bay leaves and add salt to taste. Use hot or cool.

CHICKEN CACCIATORE
Rinse chicken and pat dry. Sprinkle lightly with salt and pepper.

Pour 1 tablespoon oil into a 10 - 12 inch frying pan over medium-high heat. When hot, add 1/2 the chicken and brown well, 6 - 8 minutes total. As thighs are browned, transer to a 8x8 foil pan.

To frying pan, add remaining 1 tablesppon of oil and the onions, mushrooms, garlic, oregano, and parsley. Stir often over medium-high heat until vegetables are limp, 12 - 15 minutes.

Stir in tomato sauce and wine. Bring to a biol over high heat, stirring often; reduce heat, cover and simmer about 20 minutes to blend favors.

Add olives to sauce. Let cool to room temperature, 45 minutes to an hour. Pour evenly over chicken in pans.

To Freeze: Seal pans with foil and freeze.

To Reheat: Thaw in pan. Bake, covered, in 375 oven until chicken is no longer pink near bone, 1 to 1-1/4 hours.